Bright Lights And Dance Nights At This Rooftop Bar It's rare to find places where luxury and simplicity co-exist in harmony. In a city of extremes, you will either find bland walls fitted with factory bulbs or softly carpeted dining rooms, spurned by your wallet. AIR breaks the monotony by offering an ambiance that finds firm footing in the thin line between these two establishments. Here's a place where you can talk all day about anything over good food and dance the night away.
Why should you visit?
AIR is a multi-purpose space that allows you to choose an ambiance that fits your mood. The first level offers arched seating areas that light up with quirky quotes and a DJ console that gets you in the groove at any time of day. The open air seating area is tailor-made for days when you just want to relax with a drink and some munchies. Both are fuelled by a swanky bar that churns out classics and signature cocktails with equal finesse.


What to order?
The culinary team at AIR has a clear understanding of the essentials and prepares food the way it's supposed to be. This is perhaps why the moment you bite into a soft paneer, from the colourful platter of Paneer Tikka 2 Way, it just melts in your mouth. These cubes of dairy make for a pretty line up, alternating between mellow and spicy pieces of paneer. The Tandoori Chicken Momos here are an act of devotion; plump orange dumplings packed to the gills, proudly displaying their scorch marks like a badge of honour. One bite is enough to know that they have spent enough time in the tandoor without any shortcuts. The wrapping crackles with joy, giving way to a juicy chicken filling and the smoky undertone proves why the tandoor has been winning our hearts for decades. An oasis of meat and cheese, it's hard not to marvel at the delicate strings of cheese as you lift up a slice of the Chicken Salami Pizza. The thin crust is steady enough to support the might of flavours and textures. Pair it with a Strawberry Mojito but don't be bluffed by the innocent fruity flavour. A few sips down, your limbs will automatically start moving to the music and that's when you know the rum has kicked in.
Pro tip

The crowning glory of AIR is its luxurious VIP Deck on the topmost floor that gives you a bird's eye view of the city and can be booked for private parties.
Great for

Rooftop seating, birthday parties, dates, family dinners
The Oreo Shake was well endowed with the goodness of creamy chocolate cookies but lacked the creamy and luscious consistency corresponding to it.About the chefCorporate Chef Manoj Kumar Upadhyaya believes in keeping up with the latest culinary trends and adapts the menu accordingly. "You eat with your eyes first which is why I have upped the ante when it comes to plating the dishes. We want our customers to go back with a satiated belly and happy memories," says Upadhyaya.Brought to you by"I wanted to create an evergreen place where people could enjoy a meal with their family, friends or a romantic date with their partner on the terrace," says Arpan, owner of AIR. His business acumen and a passion to provide exceptional service prompted him to establish AIR in 2018. A lively al fresco area and an energetic bar makes it one of the most happening party spots in Punjabi Bagh.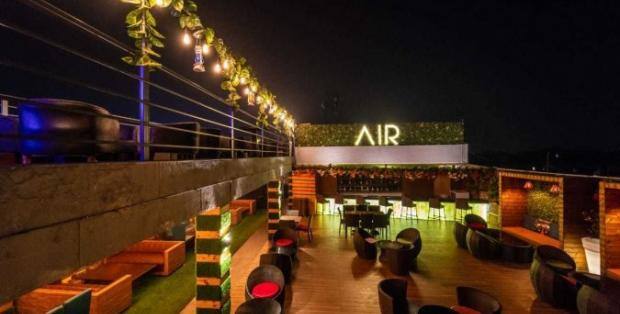 AIR- An Ivory RegionPunjabi Bagh4.0North Indian, Chinese, Conti…Cost for two: ₹1,000884 photos1522 Reviews